"Follow The 3 Easy Steps Listed Below And
I Will Personally Build A Money Making
Website Just For You That's 100% Ready To Take Orders And Pull In Massive Residual Profits — Join Now And You Can Start Raking
In Cash Within 24 Hours... Guaranteed!"

Stone Evans
The Home Biz Guy
ATTENTION: "Test-drive our FREE website builder today and you can get your very own fully automated e-commerce website set up with all the bells and whistles that is ready to accept online payments and pull in huge residual profits from all around the world, 24-7-365!
"Even While You're Sitting Back And Relaxing At Home!
NO Experience Necessary! It's Ready In
3 Easy Steps

..."

From: Stone Evans, The Home Biz Guy
Re: Helping YOU Make Money Right Now!

Welcome to The Home Biz Guy's free website builder! As soon as you follow the 3 easy steps listed below, I will personally build and install a brand new, fully-loaded e-commerce website just for YOU absolutely free... Within the next 24 hours... Guaranteed!

Before we get into the exciting details, let me share a story with you...

A few years ago, I was working 14 hours a day at a sandwich shop in Dallas, Texas trying to provide a living for my wife and children. I was in debt up to my eyeballs, my house was falling apart and I had NOT taken a vacation in 8 years!

Then one day I picked up a book called "Multiple Streams of Income" by bestselling author, Robert Allen. In that book, Robert talked about the necessity for people to create multiple streams of income in their lives and outlined many different ways to do it including the stock market, real estate and the Internet.

Immediately, I loved the idea of making money on the Internet... There was just something extremely exciting to me about being able to work from anywhere in the world using nothing more than a PC and an Internet connection. I had no idea how to do it yet, but it sounded fantastic! So I began my journey.

Every night after work and after my wife and children went to sleep, I would get online and explore different ways of using the Internet to make money. There was definitely NO short supply of opportunities... Everywhere I turned, someone was offering me another "proven" way to get rich quick on the Internet.
I Joined Most Of Them, And
Maxed Out My Credit Cards...
In the 2 years that followed, I spent over $10,000.00 racking up credit card debt buying eBooks, membership sites, special reports, opt-in leads, and joining every "guru" recommended business opportunity that flew into my email inbox...
I stayed up learning, working and drinking coffee until 5:00 in the morning month after month filled with the hope of making money online. There were days when I'd come home late from my job, start working on the Internet, and work the entire night without ever going to sleep — and then go back to work the next day.
I Was Exhausted, But I Was
Beginning To Make Progress...
A few sales were starting to come in every day and I started receiving some commission checks in my mailbox every month for affiliate products that I was promoting online. It wasn't enough to retire on yet, but it proved to me that I was on the right track and that it really is possible to make a living on the Internet!
It didn't happen overnight, but I eventually discovered the real "secrets" to making a living on the web using just a PC and Internet connection. In my 3rd year of working part-time to build an home based income, I finally broke through and earned over $100,000.00 in just 12 months from the Internet.
It was actually very EASY, but it had taken me a long time (3 years) to figure out how to make it happen. Once I finally learned how to make a great living from home myself, I realized that I could help other people copy my success.
See, I discovered that earning residual income on the Internet is all about duplication. By helping YOU make money online, I can grow my income too. It's actually the perfect business model — I succeed only when YOU make money!
"I'm Already Making Over $4,000.00 Every Month Using This System..."
"I had been working online for over 5 years and getting nowhere fast until I found this amazing offer. Within 9 months of signing up for the Plug-In Profit Site™, I was making a full-time income from home. I'm already making over $4,000.00 every month using this system and I'm just getting started!"

— Mal Keenan
Ireland
Results are atypical. Your results will vary from those shown.
That's what this website is all about.... helping YOU make money online!
When you follow the 3 easy steps listed below, I'll be able to set you up with the exact system I'm using right now to earn a six-figure ($100,000.00+) annual income working part-time, from the comfort and convenience of your own home!
Introducing...
Plug-In Profit Site!™
Your Very Own, Fully Loaded, Fully Automated, Ready-To-Take-Orders, "Internet Business-in-a-Box!"
This feature-packed, fully loaded and fully automated e-commerce website is set up for you (for FREE!), uploaded and ready to take orders within 24 hours... Guaranteed.
Also, you get a custom header logo to give your brand-new profit pulling website the professional image YOU deserve to have!
And remember, I am personally going do all this work for you without asking you to pay me a single dime. The only requirement for you to receive my service is to provide your own domain name and hosting account and I'll show you how to get that setup in Step 2 below. Want to see what your new website will look like?
NOTE: By the way, the header "YourDomainName.com" will be replaced with YOUR own website domain name.
Of course, your entire website will be 100% customizable. So, if you ever want to add new products, re-arrange your website, upload new ebooks, change the color scheme or anything you want, you can do it all freely and easily inside your user-friendly website Control Panel, at any time, 24 hours a day.
It Makes Working With Your
New Website As Easy As 1-2-3!
Even if HTML, Java, PHP and ASP are all foreign languages to you, this Control Panel makes it as easy as just a few mouseclicks! (Want to see how it looks? Click here to see a screenshot of your website Control Panel now.)
And that's just a small tip of the iceberg! Imagine...
No need to worry about programming, web or graphic design, scripts, or content and product creation (it's all done and ready for you in a snap!)...

All the order processing is handled behind the scenes such as credit card authorization, order fulfillment, product shipping, and customer service issues which are all taken care of for YOU automatically...

There's no inventory to keep, no staff to pay, no merchant accounts to set up, and no costly and time-consuming application process to go through...

You get a tireless, "salesperson-on-autopilot" website that captures visitors and automatically follows up with them, 24/7, 360 days a year, plugging your offers and generating huge affiliate commissions for you...
In fact, another powerful feature that comes with your new Plug-In Profit Site™ is an email subscription form, turbocharged by a powerful autoresponder.
This means that your website will automatically capture your visitor's name and email address for you and follow-up with each of those new subscribers with a pre-written, proven-to-sell, profit pulling, 360 day professional email marketing campaign that I'll set up for you with your new website for FREE...
... Designed To Make Lots Of Additional Sales For You For Almost An Entire Year!
The best part is that YOU get to keep ALL of the subscribers!
Yes, you'll get your very own, fully customized (just for you!), pre-written ezine-in-a-box! This complete, turnkey system that captures your visitors contact info and automatically delivers high quality content and special offers by email, will be setup to earn huge affiliate commissions for you today!
And, whenever you want to make an announcement or test a new product to this red-hot prospect list, you can... Because you OWN the list of subscribers!
That means, you not only keep your list and do what you want with it, but you also don't have to share your list with anyone else (which is important in terms of protecting your subscribers' privacy and building YOUR credibility and income).
"My First Month Pulled In $235.00 From This Newsletter Alone..."
"I had no idea how to publish a successful email publication. The 360 day pre-written newsletter you set up for me is like a hard working employee doing all of the work for me automatically. I'm truly astonished with the power of this incredible tool... My first month pulled in $235.00 from this newsletter alone and has continued to
grow larger by the day!"

— Chris Brown
USA
Results are atypical. Your results will vary from those shown.
Here's just a few of the many powerful features that come set up with your profit pulling autoresponder campaign, which will put your brand new website on "steroids" and enable you to suck in massive profits almost instantly...
360 days of pre-written profit-pulling follow-ups — you never have to write a word because EVERYTHING is set up for you automatically!

Instant, reliable delivery — someone sends you an email or fills out a form on your website, and a reply is sent to them in only 30 seconds! No need to manually send emails or manage your list.

Unlimited message length — your reply messages can be as long or as short as you want! You're never limited. (Unlike other autoresponders, which cap the message length and can potentially limit your sales!)

Unlimited message changes — change, update or edit your autoresponder whenever you want, 24 hours a day!

Password-protected online control panel — gain instant access to a private, easy-to-use, intuitive administration panel from anywhere in the world... As long as you have an Internet connection, you're ready to roll!

Powerful personalization features — another prominent feature is easy-to-configure, customizable personalization! Personalization is proven to increase sales. This feature is ready for you immediately, at your fingertips!

Smart tracking features — know instantly and precisely, at the click of a mouse, which autoresponder message is pulling the most! (That way, you can easily tweak the weak ones, dump the duds and focus on those that siphon the most cash for you!)

Database access — access and manage your database of prospects' email addresses, 24 hours a day, such as adding subscribers, viewing removals, updating messages, etc. (It's YOUR database. You can do what you want!)

Powerful mailing list management features — use your mailing list for publishing a newsletter on a regular basis! Or plug-in more offers from other programs or products you're promoting... It's all up to you!

Automatically clean your mailing list — maintain your list easily, with hard bounces removed automatically for you! No need to manually update, clean and scrub your mailing list, which can take tons of hours! (Instead, you get more free time to relax and grow your business!)

Built-in anti-spam filters — that way, you make sure good messages go through and nobody abuses your responder! The only people who will subscribe will be eager, interested and genuinely qualified prospects!

Bullet-proof email delivery mechanism — delivers your mail and gets your message across to your customers, while your competitors get blocked by anti-spam software, blacklists and filters! This will boost your open rate (i.e., people actually seeing your offers) and your profits!

Security, reliability and peace of mind — with more than 5 years of experience in maximizing your email marketing, you can rest assured that your list is safe. We have spent over $200,000.00 in our infrastructure to ensure that you can sleep well at night!

Toll-free 1-800 telephone and email support — this will solve any problems you may have and answer all of your questions, without having to pay long distance charges or be placed in a huge waiting list.

List-builder service — this fills your mailing list with flaming-hot, targeted opt-in subscribers while your autoresponder converts them to paying customers!
... And much, much more. In fact...
See What The "Gurus" Are Saying About The Plug-In Profit Site!™
"If you're looking for an easy, 100% auto-pilot way to make money on the Internet, you should get in on this cash-generating monster!"
— Mike Glaspie
BannersGoMLM
"The Plug-In Profit Site™ IS a proven way to produce online cashflow in the easiest way possible -- with absolutely ZERO experience necessary!"
— Bryan Winters
Push Button Publishing
"It's the simplest, auto-pilot money making system I've seen!"
— Marty Foley
ProfitInfo
"If you want to get involved with someone who delivers what they promise, Stone Evans is your man."
— Jeff Mulligan
CBmall
"How Stone came up with this idea, I don't know, but I love these sites so much I've got 2 of them."
— John Colanzi
Confessions Of An Ezine Writer
But don't just take the "gurus" word for it...
... Take A Sneak Peek At The Power Of This Automated, Moneymaking System Yourself!
Click here and subscribe yourself to my personal version of this insanely profitable email marketing autoresponder series so you can see how professional it is. Yours will look exactly the same as mine EXCEPT it will have your name and affiliate links in it instead of mine so you get to keep all the profits, not me.
Plus, your complete email marketing campaign is 100% customizable too; so you can add messages, re-arrange content, accept paid advertising, etc.
The possibilities for profit are endless!
Everyone knows that you must collect email addresses on your website if you want to make money online. Now, with the The Plug-In Profit Site,™ you can join the pros and cash in on this proven moneymaking technique immediately.
If you like what you've seen so far, and want me to build and install a brand new moneymaking website for you right now, just follow the 3 easy steps below.
Once you do (and it only takes about 10 minutes), I'll get you up and running and ready to start pulling in profits from the comfort of your own home...
... In as little as 24 hours or less!
Step 1: First, Get Your Products!
Making money on the Internet is not any different from making money in the real world. To do it, you need to have in demand, high quality products to sell and an effective method for marketing those products.
Finding top quality products to sell is easy. All you have to do is join a reputable affiliate program and resell other people's products for a profit. As an affiliate, you can make money every time someone visits your website and clicks on a link to learn more about one of the products.
Here's how it works: When someone visits your website and clicks on a product link, they will be redirected to a new sales page and have the opportunity to purchase the product. Just for providing the link to the product from your site, you will earn a generous commission every time a sale is made.
In truth, all of the selling, follow-up, product delivery and customer satisfaction issues will be handled for you automatically. Your ONLY job is to promote your new website (I'll show you how do it, and in fact it's really easy!) and cash your checks each month. It really is that simple.
Many people earn a full-time income working from home as an affiliate.
Just to give you an idea of what's possible to earn with Internet affiliate programs, I've posted one of my own SFI (that's an affiliate program) commission statements for you to see by clicking here. $9,112.75 isn't bad for one month...
... In Fact, Many Affiliates Earn OVER $100,000.00 Per Year In This Business!
To make that happen, you absolutely must choose affiliate programs that pay generous commissions for top quality products that are in high demand!
That's why I did all the research and legwork for you. Now your new website will be professionally designed to sell products from 5 of the MOST respected, MOST reliable and highest paying affiliate programs in the world.
These include International moneymaking affiliate programs like Madison Dynamics who pays out over 70% commissions to it's affiliates which is how I receive $10,000+ checks like this every 30 days just for sending traffic to my website (I'll show you exactly how to get this traffic to your website for free!):
Results are atypical. Your results will vary from those shown.
And I'll be giving you the exact tools I'm using to pull in these big checks working from home. Remember — I succeed only when YOU make money!
Ordinary People Are Making Extraordinary Money Working
From Home On The Internet!
"I made $10,528.48 working in MDI for one month! I'm even more excited about the remarkable five-figure incomes that are being developed in my downline. That's what building a rock-solid financial future is all about."
— Chris Tinney
USA
"I just can't stop sharing this with others... The first check I received
was $12,905.55! Even better is the fact that this is residual income. It will grow as I continue to assist my team in sharing this incredible opportunity..."
— Ola Kudzin
Poland
Results are atypical. Your results will vary from those shown.
With my support, you'll have everything you need to succeed! And...
... It Won't Cost You A Dime To Join
All 5 Top Paying Affiliate Programs!
Each affiliate program included with the Plug-In Profit Site™ is absolutely FREE to join with no obligation or minimum selling requirements whatsoever.
Plus, all 5 of these affiliate programs offer residual income so that you can get paid for a lifetime on the work you do today. As soon as you're ready to start making money on the Internet, simply click on each of the links below and submit your free affiliate applications right away.
"You're Just 10 Minutes Away From Launching 5 Income Streams That Can Pay You Forever!"
NOTE: If you are already an affiliate for one (or all) of these programs, simply use your current ID numbers when completing the Plug-In Profit Site™ application in Step 3 on this page.

Remember, each of these programs is 100% free to join and NEVER require any money out of your pocket to participate! Go ahead and join these 5 programs now... I'll be waiting :) ...
NOTE: If you have problems receiving any of your affiliate ID#'s, try signing up with a different email address (not AOL). You can always register a FREE email address at Yahoo! if necessary. Email me if you experience difficulties with any of the programs above at: support@pluginprofitsite.com.
The 5 affiliate programs listed above are the best of the best in the online marketing world. I know this from personal experience.
Remember, you've already seen one of my own SFI commission statements by clicking here. And please keep in mind, that's only 1 of the 5 FREE affiliate programs you can start making money with right now. Using this proven system, you can receive at least 5 commission checks in your mailbox every month!
"I Earned $290.00 My First Month!"
"Using the '30 Days to Success' step-by-step guide book that comes with the Plug-In Profit Site™, I earned $290.00 my first month. Plus, I was able to make the SFI's Top 100 Sellers list in May. Now that I know this system really works, my dream of being financially free is closer than ever!"

— Tal Fighel
Canada
Results are atypical. Your results will vary from those shown.
After signing up with all of the affiliate programs above, you will receive 5 confirmation messages with your affiliate ID and password for each account.
Keep them close... You'll need all of your affiliate ID's to complete Step 3 on this page to get your new website set up free today...
Step 2: Now, Join Host4Profit!
For you to have your own website, you must register a domain name and get hosting for that domain. (Example: www.google.com is a domain name, but you would NOT be able to use that website if it wasn't hosted somewhere...)
A metaphor for this is the telephone. To call someone on the phone, you must have a telephone and you need to pay for phone SERVICE. Hosting is to a website, what telephone service is to your telephone. You can't do anything without it!
So having your own domain name and website hosting account are the 2 requirements for ANYONE who wants to have their own website on the Internet.
The good news is that you can get both of these right now at Host4Profit. In fact, to limit the number of people using my free website building service, I have decided to build the Plug-In Profit Site™ for Host4Profit customers only.
Just think about this for a minute....
I'm going to design a custom logo for your business...
Customize a complete website with all of YOUR
Set up your own ezine-in-a-box that automatically follows-up with your website visitors to make extra sales for you....
Give you 8 amazing bonus gifts (see below) worth over $2,000.00...
And do the the complete installation absolutely FREE!
I'd be nuts to accept applicants from every host on the Internet! In fact, Most people (including my wife) think I'm crazy for doing all of this work for you in the first place, but you know how the saying goes:
"You can get everything in life you want if you will just help enough other people get what they want."
Plus, as soon as you open your hosting account, I'll give you instant access to the following 3 bonuses making it at least 1,000 times easier for you to start building your own personal fortune on the Internet... (These are incredible tools!)
Bonus #1: Access To the Famous
"Internet Marketing Warriors" Site
This is the only home-based marketing group on the web that has actually helped thousands of people start making money from their homes!
Just a few examples of materials inside the Warrior site that you can download immediately are....
Classified Magic
E-Book Secrets
Maximum Profits In Minimum Time
The Master Key System
Electronic Publishing 2001
Magnetic Sales Letters
eBay Secrets
Digital Selling Power
63 Killer Marketing Strategies
Methods of Marketing Masters Seminar Transcripts
The ePublishers Resource Book
The Magic Story
Seven Steps To Freedom
Magic Floppy...
... And thousands more books, articles and reports.
You get over 2,300 pages of content (although, you only need a few of them to start realizing and cashing in on the powerful moneymaking secrets they contain!). A membership to the Internet Warriors site is easily worth hundreds of dollars...
But it's all part of your new website for FREE! In fact, here's what Allen Says, the founder of The Warriors, had to say about Plug-In Profit Site:™
"This is a super quick way to get some checks coming in now."

— Allen Says, The Internet Warriors
---
Bonus #2: Complete Ad Tracking System
I found out something years ago that was absolutely amazing. A single change to a link on your site can double, even triple the clicks it gets.

All you have to do to maximize your profit is make every link perform at its maximum. And to do that, you need this powerful tool (retail value: $77.00).

With normal website statistics programs, this is hard to do. Most of them are NOT very accurate.

That's where the Track This Hit software comes in. You simply set up a tracking link for the links on your website that you want to track and test.

You can instantly start tracking up to 1,000 different links, create split-run tests, get daily results sent to you in your email automatically, track hits on affiliate links, classified ads and ezine ads, and much more.

You'll get this incredible tool FREE with your website!
---
Bonus #3: Access to the Warrior Forum
One of the first secrets to making money online is making the Right Contacts.

The Warrior Forum is an incredible resource, where you get to rub shoulders with likeminded and highly successful marketers.

It will allow you to...
Make Partnerships...
Discover New, Incredible Ideas...
Get Help On ANY Subject...
Ask For Site Reviews...
Do Joint Ventures...
Get New Resources In Minutes...
Make Special Offers To Members Only...
Get Immediate Solutions To Problems...
... And much much more!
The Warrior Forum has been the secret weapon of many of the "gurus" you read about today. Plus, you'll get immediate access to the members-only Plug-In Profit Site™ support forum to Network With Fellow Members, Share Ideas, Get Your Questions Answered, Make Friends, and much more.
The value of this incredible dual resource is easily $500.00 a year or more. (And you get it for FREE with your new website!)
So join Host4Profit today and let me help you shave at least 2 years off your Internet marketing learning curve by building a brand new Plug-In Profit Site™ for you (includes a complete 360 day autoresponder campaign) right now.
NOTE: The Plug-In Profit Site™ requires Host4Profit. Honestly, $24.95 is a small price to pay for hosting when you consider all of the incredible moneymaking features and benefits this service gives you!

Plus, your hosting fee is only temporary because as soon as 3 people sign up for Host4Profit through the link on your new website, YOU will start earning money every month. In fact, many Host4Profit customers are already making over $2,000.00 a month! Join now!

"At This Rate, I'll Be Able To Leave My J.O.B (Just Over Broke)... Within The Next 3 Months!"

"In less than 30 days, I've already earned enough money to pay for my hosting and then some... At this rate, I'll be able to leave my J.O.B. (Just Over Broke) and start living a lifestyle of self-independence within the next 3 months!"

— Dirk Wagner
Germany

Results are atypical. Your results will vary from those shown.
Don't miss out on the action... Sign up and start making money today!
To top it off, as soon as you join Host4Profit and get your new website set up for free, you'll be automatically enrolled in a company-wide contest to win a free vacation to the Bahamas! Click here to see Host4Profit's first winner. You could be next because I will give you all the tools you need to make it happen!
Brian Garvin Had A Blast In The Bahamas. Here Are Some Photos...
| | | | | |
| --- | --- | --- | --- | --- |
| | | | | |
But trips aside, don't forget that the risk is completely on Host4Profit. You must absolutely love my service, or Host4Profit will eat the bill. Why wouldn't you sign up? Joining Host4Profit right now is entirely risk-FREE...
Iron-Clad, 100% Satisfaction,
Better-Than-Money-Back Guarantee!
If my Plug-In Profit Site™ free website building service doesn't exceed your wildest expectations or if it leaves you unsatisfied in any way whatsoever, simply contact Host4Profit within 10 days to request a fast and courteous refund for your $24.95.
You've literally got nothing to lose and a whole new world of profits to gain! Plus, as my way of saying thank you for giving my free website building service a try, I'll let you keep and profit from the 3 bonuses above (and 5 more listed below) FOREVER!
That's a guarantee you can take to the bank. Join Now!
If you are one of the thousands of enthusiastic customers who already have your Host4Profit hosting account, please move forward to Step 3 right away...
Are you ready to get started?...
Step 3: Submit Your Application Now!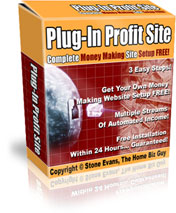 Once you have your domain name and hosting account set up, and receive your ID numbers from the 5 affiliate programs above, you'll have everything you need to submit your Plug-In Profit Site™ application.
Once approved (which will only take a few hours), you get your complete website & autoresponder setup service absolutely FREE! It's as simple as that.
You're only 5 minutes away. Just fill in the form on the next page by simply clicking the button below...

That's it! After submitting your application, I will start building your new website right away and notify you within 24 hours when everything is ready!
And, once your new website is up and running, I'll send you 5 more exclusive bonus gifts to help you get your new business off to a fast and profitable start...
Bonus #4: 30 Days to Success Marketing Guide
As part of my ongoing commitment to your success, once your new website is ready I give you my personal marketing secrets to start pulling massive profits from the web.
In fact, you get a free copy of my "30 Days To Success" step-by-step, quick-start marketing guide to help you maximize your online profits fast... Guaranteed!
Inside this revealing new book, you'll discover...
The best free advertising resources (the ones that actually work!)...
How to run an effective pay-per-click advertising campaign and

get 65,000 free visitors to your website

...

How to get thousands of websites to link to yours free and dominate the search engines without spending a dime...
The best places to buy solo ezine ads including which ads will help you start earning multiple streams of residual income automatically...
How to expand your business and build a great reputation for yourself through forum networking...
How to write articles and get hundreds of popular newsletters and websites to publish your work absolutely free (easily worth $1,000's)...
... And much, much more!
This amazing new book sells elsewhere for $39.95, but it's yours absolutely free when you submit your application and get your moneymaking Plug-In Profit Site™ up and running.
---
Bonus #5: FREE Plug-In Profit Site™ Affiliate Program Membership
That's right! I'm going to give you the opportunity to make money sending your prospects to the

Plug-In Profit Site™ service.

You'll get your very own website just like this one coded with all of your own affiliate IDs for each affiliate program required to get a Plug-In Profit Site™ including Host4Profit, SFI, Madison Dynamics, Traffic Swarm and the Internet Marketing Center...

You can earn 5 streams of residual income simply by sharing the Plug-In Profit Site™ with others. In fact, it's possible to earn over $10,000.00 a month from our affiliate program.

You'll get all the support, training and tools you need to earn a substantial income sharing the Plug-In Profit Site™ with others — including pre-written email ads, classified ads, banner ads, brandable ebooks and a whole lot more!

It's all pre-written, tested and ready for you to profit!
---
Bonus #6: Web Army Knife
Don't even dream of buying the Web Army Knife from their website, because you'll get the complete profit-generating package absolutely FREE with your new Plug-In Profit Site.™

Yes, you'll get every single one of the following amazing sales-boosting tools entirely free so you can add any or all of them to your website with a single click...
The Mini Site Machine — churn out HTML code in a flash and other mini-sites without a hitch!

The Website Colorer — create eye-popping color combinations for your web site in a split second!

The Deadline Generator — integrate a dynamic date into your sales letter that will always read a certain number of days in the future, and boost sales with a sense of urgency!

The Magic Word Jumpstarter — lists sales-inducing power words and helps you integrate them into your headlines and sales copy, resulting in more profit for you!

The Meta Tag Generator — instantly generate perfect, search-engine-friendly tags that you can put on your web site to improve your site's search engine ranking.

The Email Scrambler — scramble your email address and stop them from being harvested by spam email spiders!

Timed Bonus Popup — multiply your conversion rate by showing a pop up window after visitors read your letter!

Affiliate Link Cloaker — hide your affiliate links on your website to prevent them from being hijacked, and get every penny in commissions you truly deserve!

The Popup Generator — add a popups to your site with a single click, and boost subscribers, sales and commissions!

Opt-In Alert Generator — pop up an "alert" on your website, and boost subscriptions by as much as 3,800%!

Tell A Friend Generator — create a quick, one-step button you can add to your site that will let your visitors tell their friends about your site with just one click!

Favorites Adder — get repeat traffic to your site by having people add your site to their favorites in one click!
... And more!
Several top Internet marketers looked at this mind-blowing package and said it should NOT be sold for less than $97.00, but you'll get it absolutely free with your Plug-In Profit Site!™
---
Bonus #7: Reciprocal Manager Linking Software
This incredible software program sells for $49.00, but I've made a special deal with the owner of the program to be able to give it to YOU absolutely FREE when you order the Plug-In Profit Site!™
Reciprocal Manager is easy to install, easy to use and has no ongoing monthly fees like other reciprocal linking solutions out there. Trading links is a tried and true method for getting free traffic and making money on the Internet. In fact, it's the #1 reason my own website comes up #1 on Google for the search terms of my choice — and I make sales all day long from this *priceless* traffic source.
If you're ready to...
Save Money Up-front
Eliminate Ongoing Expenses
Automate Your Business
Create Profitable Partnerships
Expand Your Circle Of Influence
Dominate The Search Engines

Crush

Your Competition and
Explode Your Online Profits
... You'll love Reciprocal Manager!
The ONLY comparable reciprocal linking solution on the market will cost you nearly $240.00 per year. That can take up to $2,400.00 out of your pocket in just 10 years... So as soon as you order the Plug-In Profit Site™ today, you'll immediately start saving money with this powerful business generating tool!
To make tons of money online, you need to have Reciprocal Manager. Don't be crazy and buy it somewhere else! Let me build your website for you so I can give it to you absolutely FREE!
---
Bonus #8: Over $1,500.00 In FREE Pay-Per-Click Ads
I've made special arrangements to give you over $1,500.00 in free advertising from several popular pay-per-click search engines. If you don't know yet, pay-per-click search engines allow you to decide exactly what type of searchers will see your ads and visit your website.
Does this sound to good to be true?
It's not, and here's how I did it... I discovered that there were dozens of pay-per-click search engines that were hungry to earn your business and willing to prove their value to you in advance!
So I spent a couple of weeks scouring the Internet locating all the best search engines that would be willing to offer you free advertising simply for giving their service a try.
Obviously, when you find out how many sales you get from this free advertising, you'll want to purchase more from them. So, they let you try their ads free — and they get new customers!
When you sign up for my free website building service, I'll show how to get over $1,500.00 in free, highly targeted, pay-per-click advertising. Instead of paying immediately for each visitor to your website, you can just use this free advertising instead.
Then you can invest a portion of the profits you earn from this free pay-per-click advertising into some paid advertising and continue growing your residual income even more quickly!
This bonus alone is such a incredible deal, some people sign up for the Plug-In Profit Site™ just to get access to all these free pay-per-click ads. In other words, you can sign up now just to get $1,500.00+ in free advertising if that's really all you want...
But the whole package is worth much, much more!
These bonuses are worth thousands of dollars alone and it would be a huge mistake for you to pass them up, but I really don't want to persuade you to sign up for my free website building service on the value of the bonuses alone.
It's my service itself that will save you thousands of dollars and countless hours of wasted time! Here are what some people had to say about it...
Here's What People Are Saying About The Plug-In Profit Site!™
"The new website you built for me for free is stunning! I still can't believe it was up and 'ready to go' in less than 24 hours. Not only that, but you've provided me with tools I can use to market my new website, along with a professionally written newsletter that will follow up with my subscribers for 360 days. And those subscribers are mine to keep! Thank you for delivering even more than you promised!"
— Gloria Rubin
"I've probably have been the biggest skeptic of all, but I'm most impressed with how quickly you set-up my site, gave me tons of free tools to promote it with, and how quickly you responded to my questions. I've only been up 30 days and I already have 15 affiliates with SFI and 2 MIQ (paying members)!"
— Jeffrey Casmer
"Thank you, thank you and thanks! I was getting ready to redo my website, but I just haven't had the time. Being a single mom, I've always hustled, and with the Internet, I've just taken that entrepreneurial zeal to the web. This is the second time this month that someone has helped me. The first proved to be less than wonderful, and I wound up spending money. This time I came at it more cautiously, and was pleasantly suprised, NO -- WOWed -- when I saw the results!"
— Judith Brandy
"Great website. I followed the marketing instructions you provide, and I've already had 51 hits in 24 hours and signed up 1 affiliate. Amazing."
[Very excited, 24 hours later...]
"Stone, I have to say 'Thank you'. This is fantastic!!! My site has been up for 48 hours, only the first email has gone out and I've had nearly 200 hits and referred 2 double opt-in affiliates and 1 prospect. I can hardly wait for the next email to go out. The only customizing I've done so far is to change the pop under window to try and get some sales at another site. I have been an affiliate since Sept. 2 and just wasn't sure how to go forward. Thanks for leading the way!"
— Greg Mangin
All of these people are enjoying the powerful benefits of my free website building service and the valuable bonuses that come along with it. But the truth is, some people will use these extra bonus tools I'm giving away to make millions of dollars and others will never take full advantage of them.
It's Just Human Nature,
But The Fact Remains...
These incredible bonus gifts can easily add thousands of dollars in extra sales and profits to your bottom line. And, they will be yours to keep forever as soon as you register a domain name and open your hosting account, grab your 5 affiliate ID's and complete the Plug-In Profit Site™ application form below.
By this time tomorrow, you'll have everything you need to start cashing in on the Internet gold rush from the comfort of your own home!
Simply click the button below to apply now:

I look forward to building YOUR new website next! :-)
Sincerely yours,



Stone Evans, The Home Biz Guy
P.S.:

Skepticism is healthy and encouraged because there are some dishonest people and scams going around the Internet. Fortunately, these are the exception, not the rule. But, it's important to me that you feel 100% confident about using my service.

I take great pride in the Plug-In Profit Site™ and to demonstrate my unwavering commitment to uphold the highest business and ethical standards possible, I encourage you to investigate these widely respected organizations (iCop & Better Internet Bureau) that I'm a proud member of now.

P.P.S.:

If my service doesn't exceed your wildest expectations or if it leaves you unsatisfied in ANY way whatsoever, simply contact Host4Profit within 10 days to request a fast and courteous refund for your $24.95.

You've got absolutely nothing to lose and a whole new world of profits to gain! And since I'm not charging you a single penny for my service, you won't owe me anything. With this deal, you can only win!

And remember, as my way of saying thank you for giving my service a try, I'll let you keep and profit from the 8 bonuses mentioned earlier forever. Frankly, that's a guarantee that you'd be crazy to pass up!

P.P.P.S.:

Please read a few of the unsolicited testimonials from people just like you who recently got started with their own Plug-In Profit Site.™



Here's What People Are Saying About The Plug-In Profit Site!™
"Stone has just finished my site and I could not be happier. He has done everything that I have been trying to do myself for the past year, but never got around to. My work could not have compared to this anyway. As soon as you take the step to let Stone design your site FREE and follow his step-by-step instructions, you'll be on your way to having more wealth and abundance!"
— Debbie
"Stone has put together a really fantastic, fully functioning, blast of a website for me! It would have taken me weeks to just get close to the package that he put together for me for FREE. If you have even the slightest interest in a money making site that is sweet to watch, you need to ask Stone to please set one up for you. Stone, thanks! I owe you! Let me know if ever I can repay you..."
— John Wilson
"All I can say is 'WOW! Thanks a million Stone!'. It is awesome and there are links to everything from my affiliates so now I can get started instead of waiting until next year when I finally learn how to do it myself. Stone Evans is very friendly and easy to work with. And a GREAT help to someone that doesn't know how to do it themselves. Thanks again Stone!"
— Tammy Wilhoite
"Just a short note to express my profound gratitude to Stone for the splendid work done on my website! Being fairly new to this area, I could not ask for a better opportunity to meet such a person. Shooting back answers to a bundle of questions could not have been easy, but somehow he managed to do it. To a 'GREAT GUY with GREAT SKILLS', hats off and KUDOS Stone!"
— Charles K. Sawyer
"This guy, Stone is a blessing from GOD. It's a great website and complete package ready to make money. I will follow your lead. Thanks and may GOD bless all areas of your life!"
— Chris Matise
"I just received my website that Stone Evans built and it is beautiful to say the least. Stone was true to his word saying he would get the site up within 24 hours (actually it was much less). As busy as he must be, he gets back to you promptly when you ask a question. That is a rare thing in cyberworld! I'm looking forward to working with Stone now to earn some money and I have confidence that it will happen. I don't know the man well yet, but I already have a great deal of confidence in him. Some people you can zero in on quickly. Stone is the go-to MAN!"
— William M. Pacelli
"Stone is warm, patient and always available when possible. He is willing to pass on what he has spent hours, days and many sleepless nights to put together in a heart beat. He took time out of his busy schedule to set up my website for FREE and has since then been open to all my questions at all times. I will will recommend Stone to all my associates who are in search of an online business."
— Ambiance
"Stone, boy, it sure looks great! I'm so excited and cannot wait to get started. Thanks a million!"
— Willie Kitchens
"I just wanted to Thank Stone for the great job he did on my website. Even though he was really busy he finished my site about 2:00 AM EST which really impressed me! I would recommend Stone Evans to anyone who wants to make money on the Internet."
— Charles E. White
"My new site is perfect since I had hard time building one myself. This has been the biggest help that I could get. Thanks Stone, keep up the good work!"
— Joe Berezhinskiy
"Stone, this is much more than I had hoped for when I first saw your offer to build me a money-making site, for FREE. You've helped me take the first steps to where I've wanted to be for so long! Again, thanks so much for all you've done to nudge me this far. It means more to me than you know..."
— Tom Silver
"I want to say what an absolutely terrific job Stone Evans has done on the website he put together for me. It's totally automated and ready to go! All I had to do was promote my site. He took care of all the rest for me. I've had many great reviews already in just one day. Thanks you for a great job!"
— David Kingsbury
"Hey Stone, Just a note to tell you how much I appreciate the website you just completed for me. I am very pleased with it and can hardly believe I can call it MINE! I'm doing the things you suggested to get off to a quick start and can hardly wait for the response!"
— Larry B.
"I have been trying for days to get a website set up and it has been getting VERY frustrating, even though I was getting some much needed help. You come along with this FREE website and here it is all set up and ready to go with all the bells and whistles. Fantastic!"
— John Grewcock
"Stone, thank you for setting up my website to make profit! And thank you even more for the advice in regard to how to maximize it's potential. I've ALREADY had at least 5X the traffic my website had previously, and that's with $0 coming out of my pocket!"
— Mark Wynne
"Stone did a magnificent job, for FREE! After several years of trying to make it on the Internet, Stone has helped me more than anyone. I'm already beginning to receive checks from the website that Stone built for me... If you're looking for help in getting started online, you won't be able to find a better helper!"
— Dwight Davis
"Thank you from the depths of my heart! I had been trying to design a site for months to promote my affiliate links but just could not get it up and going. I am so thankful that I found Stone... Just to know that their is someone out there that will help other people like myself is a blessing! To sum it all up, Stone is an absolute Godsend!"
— Helen Martin
"Hey Stone! Thanks for the quick setup. Your follow up email detailing what you did to make money and what people need to do to start promoting their new site and build their own opt-in email list and afiliate base is VERY well done!"
— Yoon Ho Um
"It took me a full 2 days to realize just how POWERFUL this site is! The ability for this site to pull in massive profits is a a no-brainer. I still have butterflies churning in my stomach because I am so excited! This weekend I am going to fill it up with gas, and take it for a test spin!"
— Richard Koontz
"Hi Stone, Got your site and it looks very professional! I am VERY pleased with the look of it. It saved me a LOT of time in design... What a wonderful marketing idea. Thank you so much!"
— Dagmar
"Hi Stone, I got the site and I really like it. What I love about it, is that I can customize it however I want. I just changed a bit of the color and adjusted it so it will work with the server I put it on. This site really saves a ton of time as you don't have to research for good affiliate programs and products yourself. Thanks a lot!"
— Tino Hartung
"BRILLIANT! That is all I can say. You are one in a Million! You've saved my life with your web page design - and the information you provide is going to make me some serious money. I will NOT have to be frightened about bills any longer. I am DISABLED and now work from home earning money all the time... Even from this horrible wheelchair, I feel like the working man again!"
— Roy Hunter
Copyright © PlugInProfitSite.com All rights reserved.
P.O. Box 79-6036, Dallas, TX 750379
972-735-9531 - support@pluginprofitsite.com
Every effort has been made to accurately represent our product and it's potential. Any claims made of actual earnings or examples of actual results can be verified upon request. The testimonials and examples used are exceptional results, don't apply to the average purchaser and are not intended to represent or guarantee that anyone will achieve the same or similar results. Each individual's success depends on his or her background, dedication, desire and motivation. As with any business, there is an inherent risk of loss of capital and there is no guarantee that you will earn any money.